Direct to garment printers allow you to print full-color designs directly onto t-shirts, hoodies, and other apparel.
As a small business owner or entrepreneur, a DTG printer can be a great way to produce custom printed merchandise without the minimum order quantities and setup costs of traditional screen printing.
But DTG printers are SUPER expensive.
If you're eager to start a t-shirt printing business but don't have thousands to invest, you may be wondering if it's possible to buy a DTG printer under $500.
In this post, I'll go over everything you need to know and give you some alternatives and ideas.
Can I Buy A DTG Printer Under $500?
The short answer is no, you can't buy a new DTG printer under $500.
DTG printers that are capable of printing high quality, full-color graphics on t-shirts and apparel start at around $5000 for an entry-level commercial machine.
Also Read: Why Does My Heat Press Keep Clicking?
While you may come across some new no-name DTG printers on sites like Alibaba or eBay for $1500 or less, these bargain models will be very limited in terms of print quality, speed, reliability, and operating costs.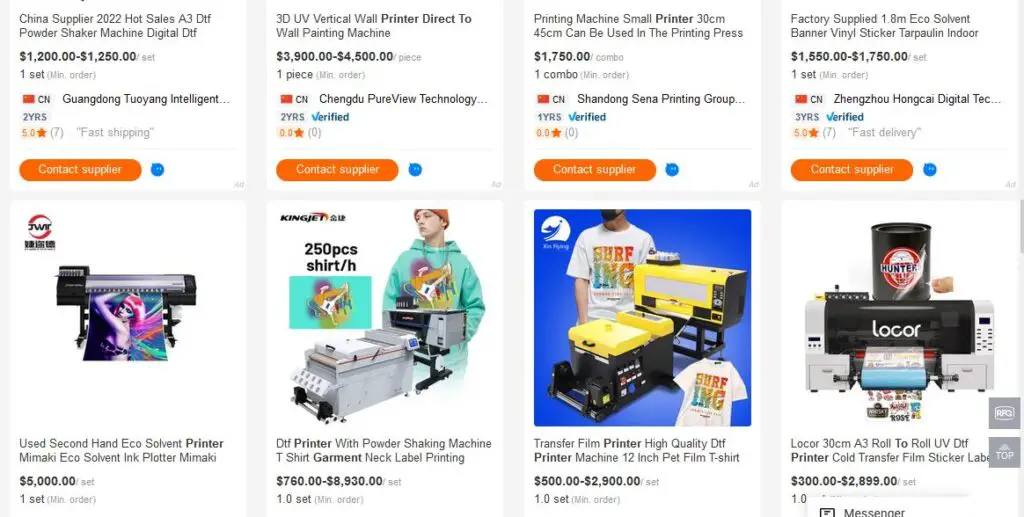 They are not a wise investment for starting a real DTG printing business.
Your best option if you're constrained by a $500 budget is to look for a used or refurbished DTG printer from an established brand like Epson, Brother, Kornit, or Ricoh.
With some persistence, you may be able to find a previous-generation model for around $500 to $1,000.
Just make sure to factor in potentially higher maintenance and repairs costs with used equipment. Research availability of ink and parts too.
How To Get A DTG Printer Under $500
Given the factors above, what kinds of DTG printers can you realistically get for under $500?
Here are some options and their pros and cons:
Used Or Refurbished DTGs
Like I said, older models from brands like Epson or Brother can sometimes be found used or factory refurbished in the $500 and under range.
The print quality is good and they last longer than new bargain printers. 
But maintenance costs may be higher.
Also Read: Can You Sublimate On Burlap
Small Format Chinese Import Printers
Aliexpress and Alibaba often have new Chinese-made small format DTG printers priced from $500 – $1000. But print quality and reliability are hit or miss. 
Support is minimal and sourcing inks/parts can be challenging too.
These smaller "desktop" DTG printers often have slower print speeds and lower daily output than full-size commercial printers.
DIY Conversion Kits
One ultra low-cost route is to convert an existing consumer inkjet printer into a direct to garment printer using a DIY conversion kit.
Companies like Magic Touch and NeoStamp sell kits starting around $200 that include a specialty platen and inks to adapt desktop printers for printing directly on t-shirts.
With that said, keep your expectations realistic – this won't match the output of $5,000+ commercial DTGs.

There's also a steep learning curve for calibration and getting optimal prints. You'll need patience and technical skills.
Alternatives To Purchasing A DTG Printer
Given the limitations of DTG printers under $500, you may want to consider alternative approaches, especially when first starting out:
Outsource Your Printing
Rather than running your own equipment, use a print provider like Printful or Printify. 
You simply upload your designs, submit orders, and the provider prints and ships the finished products.
Some of the pros of this are:
No investment in printers or supplies needed upfront. Just pay per item printed.
Access high-quality commercial DTG printing and other processes like screen printing.
Order fulfillment services handle shipping printed products to customers.
Wide range of apparel and product options beyond t-shirts.
Easily scale up or down. No capacity constraints.
Cons would include higher per unit costs and less control compared to printing in-house.
But outsourcing can be ideal for starting out and testing designs before investing in your own equipment.
Consider Screen Printing
Screen printing has higher upfront costs for setup and requires larger order volumes. But per unit costs can become lower than DTG printing. 
Screen printing excels at simpler spot color designs. It may be a better solution if you want to produce hundreds of the same shirts vs small batches of custom one-off prints. 
Also Read: Heat Press Turned White Shirt Yellow
If you are starting out, explore local screen printers that offer wholesale services.
Final Thoughts
The bottom line is that there are no DTG printers under $500. 
Even the lowest good ones start at $2000+
Rather than rushing into equipment purchases, spend time mastering design, marketing, and ecommerce skills first.
Many successful print businesses outsource production initially. Once you have steady sales volume, you can better justify and manage an equipment investment.
Do not burden yourself with printer loans or costs before validating your business.