Setting your favorite designs on plates can be a fun and fulfilling experience. However, techniques like sublimation on plates often involve inks and a few chemicals. And, this obviously raises many questions for the average user!
So, are sublimation plates food safe?
Yes, sublimation plates are food safe. They usually feature high-grade melamine material, which has non-toxic and BPA-free properties. Sublimation plates are also dishwasher-safe and suitable for serving meals.
What are Sublimation Plates
Source: Youtube.
Sublimation plates refer to plates designed specifically for this printing process. It involves taking a design stencil, and using a heat press or specialized printer to set a design on a plate. Sublimation plates also feature specialized coatings that help ink stick to specific surfaces for longevity. 
Usually, these plates are made using different materials, including wood, metal, glass, and ceramic. 
Also Read: Can you sublimate on nylon?
Plus, they are also available in various sizes and colors. It's also possible to use sublimation plates for multiple applications, such as promotional items or personalized gifts. 
These plates are also usable for developing custom plates for applications like personalized logos, signs, and artwork. They are pocket-friendly, and practical solutions for producing custom designs. The steps involved in plate sublimation involve:
Prepare the transfer paper and ink for the sublimation process.
Connect your plate to the transfer paper, and set it on a heat press or other similar resource.
Once the heat press achieves the ideal temperature, press the transfer paper to kickstart the sublimation process. 
The paper and ink should be fully embedded on the plate after a few minutes. 
Reasons Why Sublimation Plates are Safe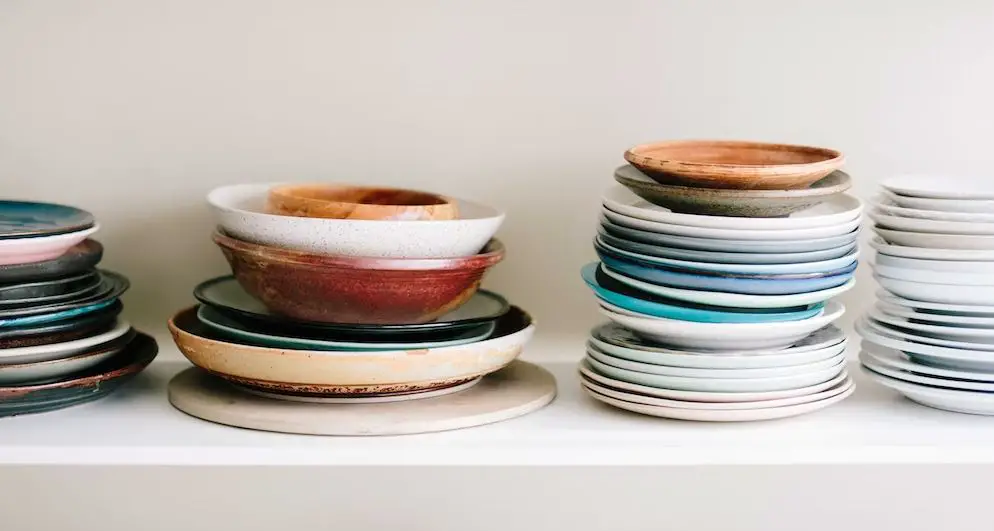 Here are some of the reasons why sublimation plates are food safe:
Reason #1. Made Using High-Quality Ceramic 
Sublimation plates feature high-quality ceramic material, which is produced at high temperatures. Its property makes them durable and non-porous – perfect for sublimation plates. The non-porous aspect of the plates also makes them stain resistant. 
They can also easily absorb any other spills or liquids that you come across. It makes them perfect for serving food and ensures they maintain their appearance for long periods. The ceramic material also helps keep food's warmth and prevents issues like sogginess. 
Reason #2. Does Not Leach Chemicals
Sublimation plates are also food safe because they feature a specialized glaze that won't leach toxic chemicals into your food. It makes the sublimation plates perfect for cooling and serving meals. That is because the plates ensure your food is safe to consume.
Also Read: Can you sublimate on PVC?
The glaze is also durable, and less prone to cracking or chipping. Aside from being leach-proof, the glaze is also an essential aspect of the plate's appearance. The high glaze finish also makes it easy to clean the plate and remove impurities like bacteria.
Reason #3. Prevent Bacteria Development
Sublimation plates have non-porous surfaces that make them ideal for setting food for consumption. 
The non-porous material means that no organisms like bacteria can find spaces to hide, and it is also difficult to clean. You can also use almost any type of kitchen-based cleaning system to clean the plates in this state without any damage issues. 
Frequently Asked Questions (FAQ)
Is Sublimation Ink Toxic?
Yes, sublimation ink is non-toxic and eco-friendly. That is because most brands today prepare them to be in this state, making them easy to clean without leaching. The ink on your ceramic plates also depends on the quality of the ceramic. 
Is Sublimation Paper Toxic?
No, sublimation paper is not toxic, but it's also not suitable for consumption. You should instead use it as a surface for setting your designs rather than a surface for setting meals. The ideal alternative for you would be to get sublimation plates. 
Can You Sublimate Plates?
Yes, its possible to sublimate plates. This process requires ceramic plates, and the correct sublimation ink. You will then submit these components to a heat press for the design to embed on the surface. 

What Kind of Plates Can You Use for Sublimation?
There are various types of plates that you can use for sublimation. The most common types are ceramic blanks, perfect for set designs and drawings. It's also essential you pick plates from relevant brands. 
Can Sublimation Make You Sick?
Yes, sublimation can make you sick, and this often occurs when you fail to perform the sublimation process correctly. You must use the right surfaces, like ceramic plates, to avoid such issues. 
Are Sublimation Mugs Toxic?
No, sublimation mugs are not toxic. That is because they are made using ceramic materials, which provide perfect surfaces for setting plate designs. So, its safe to use ceramic mugs at all times. 
What Temperature Do You Press a Sublimation Plate?
The best temperature for pressing sublimation plates is 400 degrees Fahrenheit for upto one minute. Ensure you also let the ink dry before using the plate to avoid any possible contamination issues. 
What Materials Can You Not Sublimate On?
There are various materials that you can sublimate on. These include materials like plastic and metal. That is because the surfaces don't provide sufficient or a high quality adhesion surface.
Bottom Line
So, there you have it! Sublimation plates (and mugs!) are food safe. The key to using these plates is to ensure they are made using the correct procedures, and materials